VHS Date: September 1, 1998
The program features Steve Whitmire as Kermit in the framing story and Frank Oz as Grover, surrounding clips of Kermit as performed by Jim Henson. The special features appearances by The Three Little Pigs and The Big Bad Wolf, as well as new segments in which Grover talks to real-life kids about Kermit. In this release from 1998, eight great Kermit tunes for it.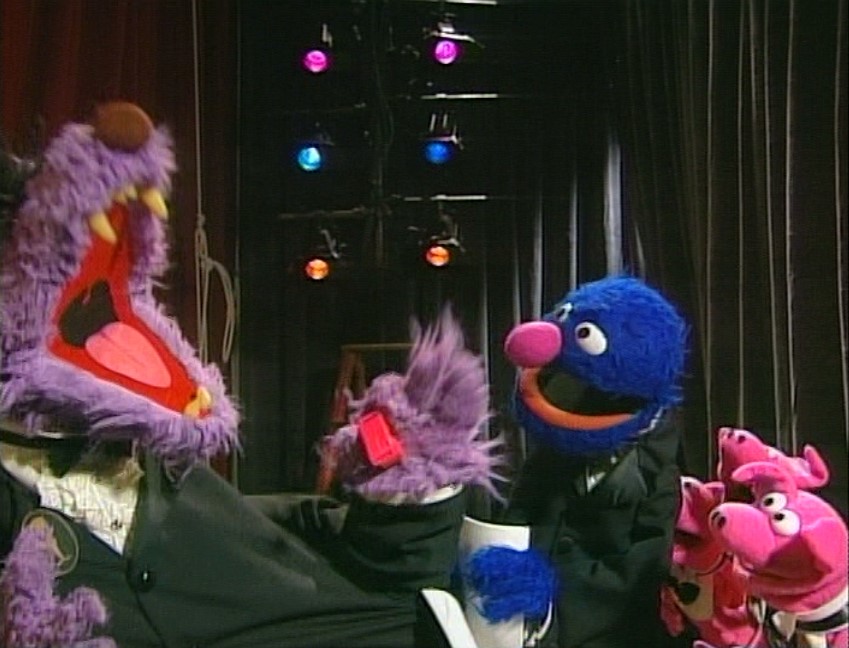 FRAME 1
Grover is backstage, explaining to the viewer that he's about to present The Frog of the Year Award to Kermit, and has prepared a poem for the occasion. Then the Three Little Pigs enter, saying that they are there because they are friends of Kermit's ("He's talked to us twice on Sesame Street News.") They say that they will bring Kermit the award, "the biggest prize a frog can get", and they will do whatever else they want. Grover presumes that this may mean trouble, but the Big Bad Wolf shows up and compels the pigs to behave. He tells Grover that if they bother him, just yell "Pig Patrol!" The announcer (Kevin Clash) introduces the show (presented by the American Frog Institute), and Grover goes onstage to read his poem for Kermit, "What is a Frog?" He says a few things about frogs, including the fact that they love their elbows.
Muppets
Kermit sings "I Love My Elbows."
(EKA: Episode 2614)
Closing cut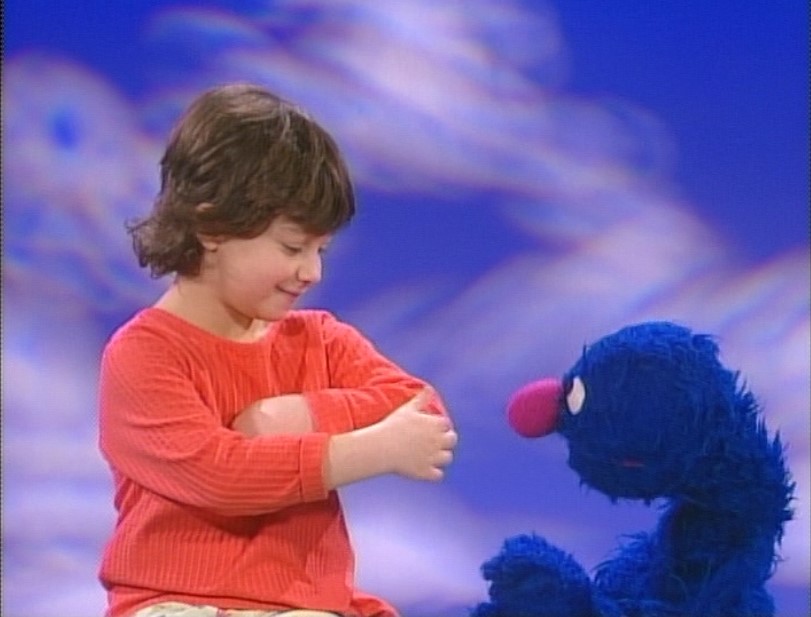 FRAME 2
Grover tells a girl that he did not know that frogs had elbows, and asks her if she knew. She says she did, because she knows a lot of frogs.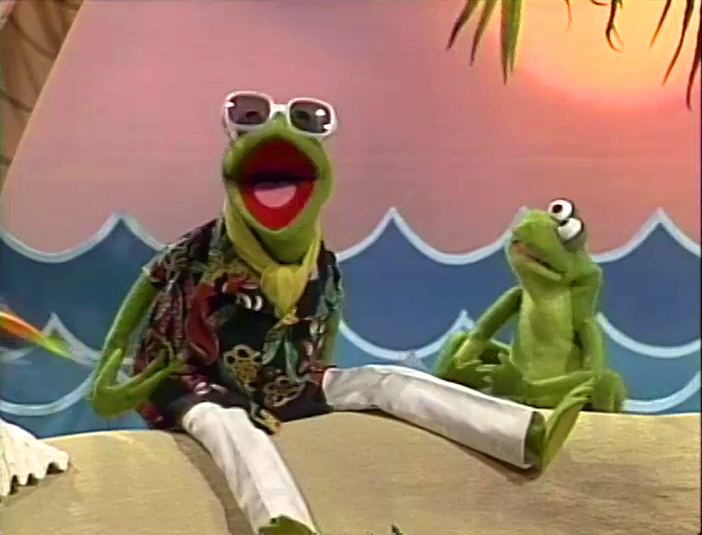 Muppets
Kermit sings "Caribbean Amphibian."
(EKA: Episode 2494)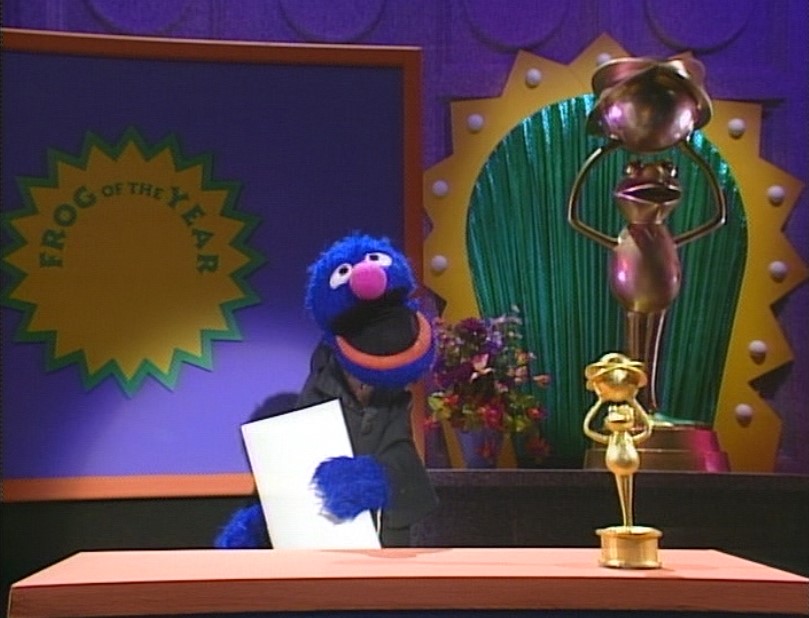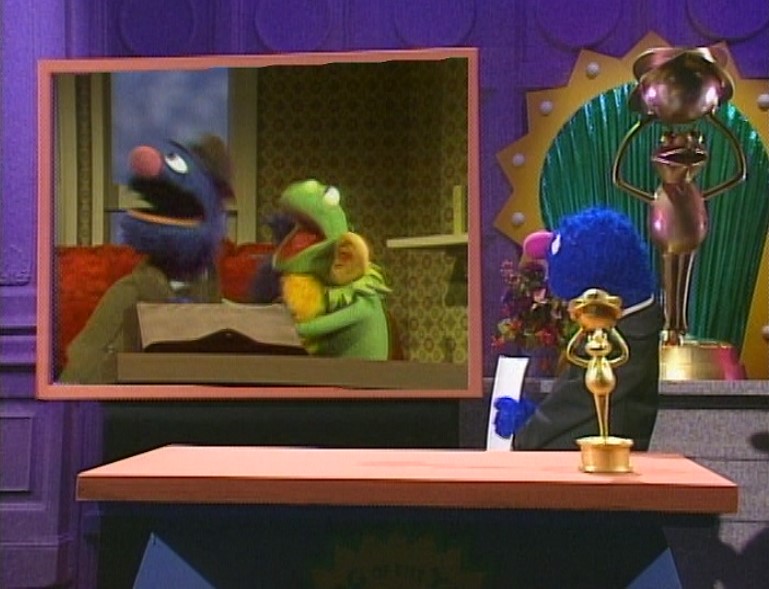 FRAME 3
Continuing his poem, Grover claims that "A frog also has big ears and a long nose. And teeth, lovely white teeth". Grover shows clips on the video screen. After those clips, Grover is convinced that frogs don't have those things, but states that they do have calmness, and never get angry. However, all of the clips shown show Kermit getting angry.
Clips of Kermit being angry include:
▪ Kermit yelling at Grover after getting ears put on him
▪ Kermit trying to tell Grover that he doesn't have a nose
▪ The Wonderful World of T-Shirts
▪ Kermit wearing sunglasses
Grover is then convinced that frogs have no ears, no nose, no teeth, and do occasionally get angry, but Grover is certain that frogs know the alphabet.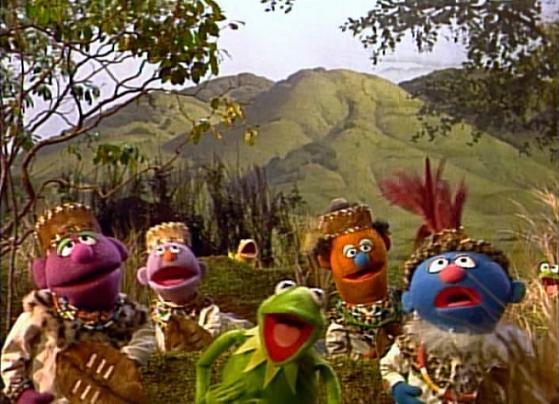 Muppets
"African Alphabet"
(EKA: Episode 2404)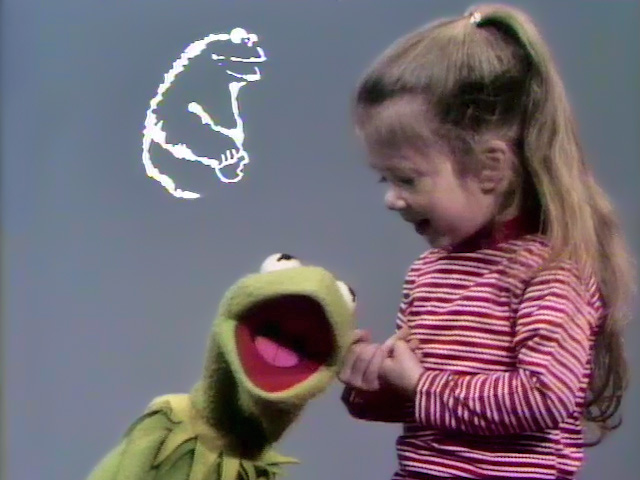 Muppets
Kermit and Joey recite the alphabet.
(EKA: Episode 0536)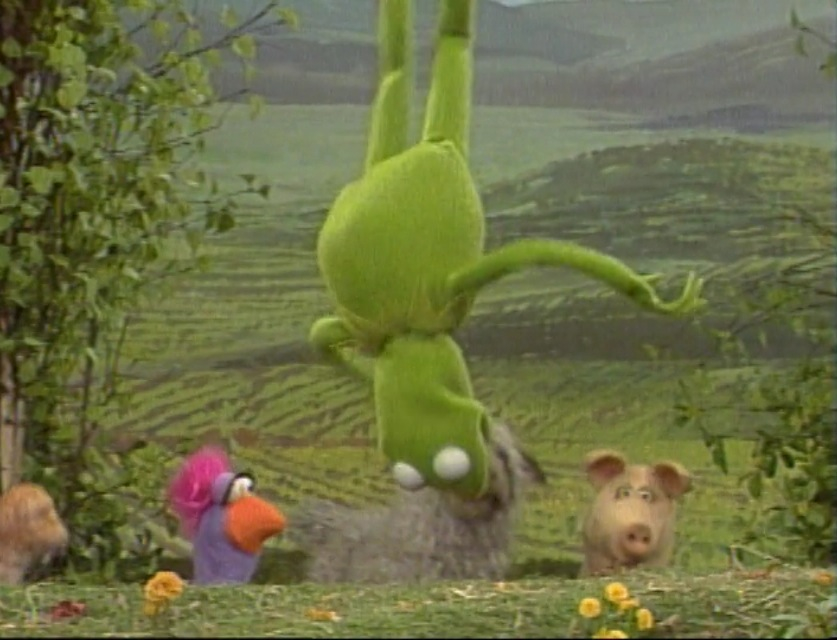 Muppets
Kermit sings "Do-Op Hop."
(EKA: Episode 2484)
Ending cut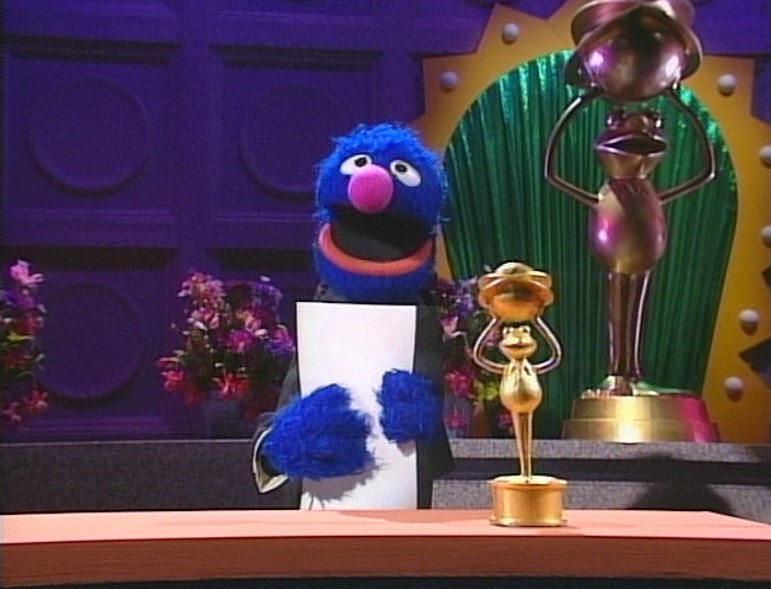 FRAME 4
Continuing his poem, Grover states that when a frog is sad, he doesn't get the blues -- He gets the greens.
Muppets
Kermit sings "Bein' Green." (remake)
(EKA: Episode 3140)
Three seconds cut off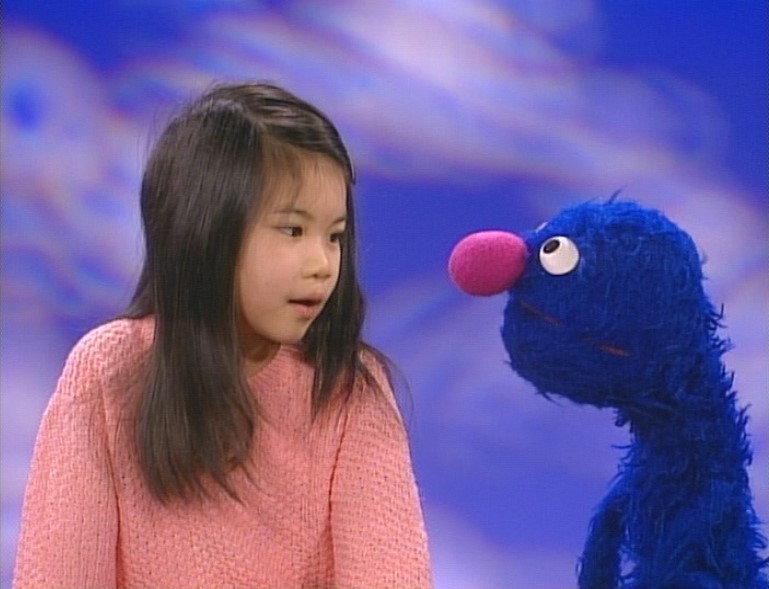 FRAME 5
Grover asks a girl what kind of weather frogs like. She doesn't think that frogs like snow, and explains why. Grover states, "So maybe you like sunshine."
Muppets
Grover attempts to sell a weather machine to Kermit.
(EKA: Episode 0848)
New sound effects added
FRAME 6
The pigs have tied up Grover and attempt to take over reading the poem: "What is a frog? Someone green and smooth with no snout or curly tail...who started out as a tiny wriggly tadpole..." But Grover yells "Pig Patrol" and the wolf chases them away. Grover and a girl discuss Kermit's award.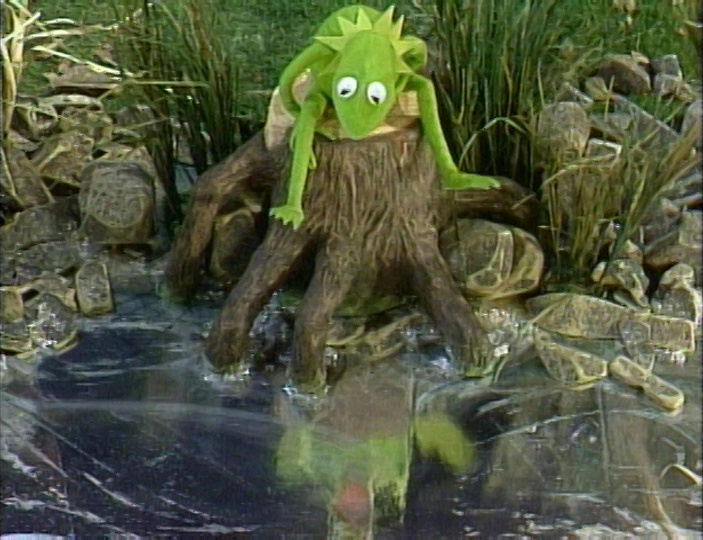 Muppets
Kermit sings to the titular tadpole about the life awaiting it when it grows up to be a frog, but tells it to take its time growing up.
(EKA: Episode 2483)
Ending cut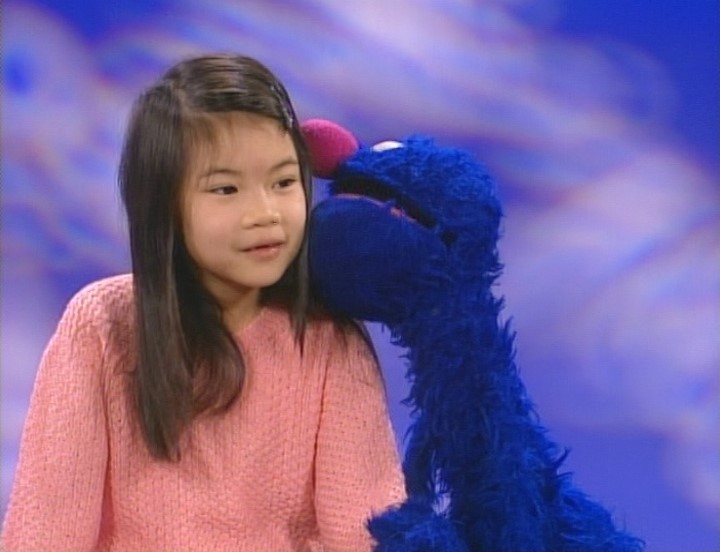 FRAME 7
Grover asks a girl if she knows what job Kermit does on Sesame Street. She knows that Kermit's a news person, but doesn't know what he says as a news person, so Grover whispers "Hi ho, Kermit the Frog here".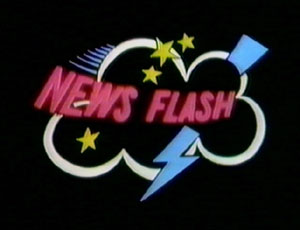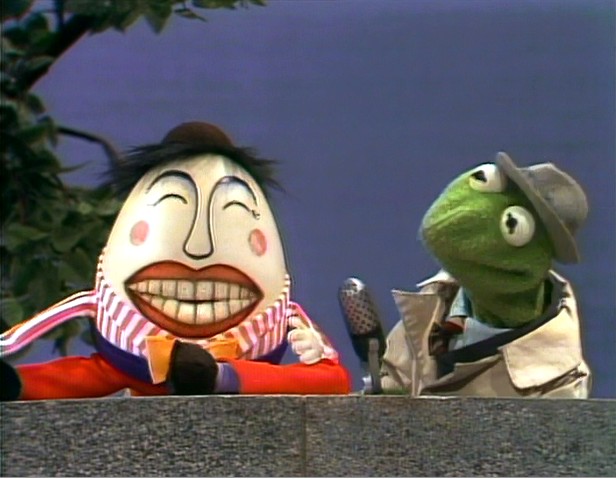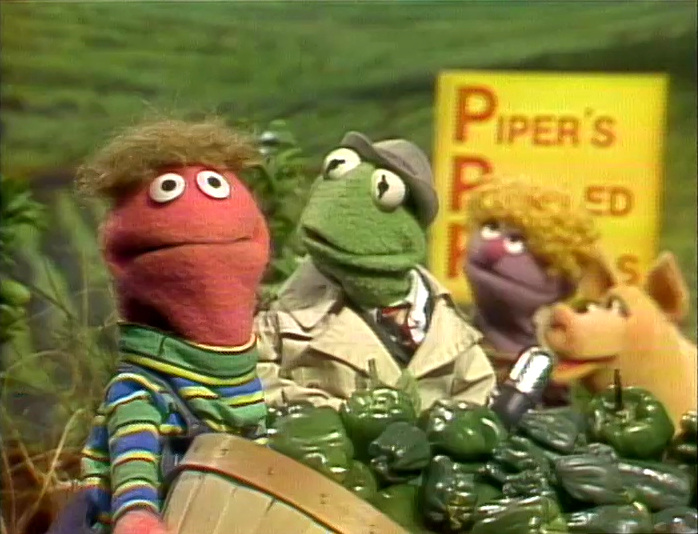 Montage
A montage of Sesame Street News Flash segments, including scenes from...
▪ Humpty Dumpty (EKA: Episode 0705)
▪ Mary Had a Little Lamb (EKA: Episode 2059)
▪ Jack Be Nimble (EKA: Episode 0723)
▪ The New Three Little Pigs Story (EKA: Episode 3080)
▪ Hickory Dickory Dock (EKA: Episode 0710)
▪ Rumpelstiltskin (EKA: Episode 0724)
▪ Peter Piper's Family (EKA: Episode 1563)
▪ Cinderella's Fairy Godmother (EKA: Episode 2491)
▪ Pinocchio (EKA: Episode 0878)
▪ Mumford's Big and Small Trick (EKA: Episode 3168)
▪ George Washington's Father's Cherry Tree (EKA: Episode 1060)
▪ The First Day of School in History (EKA: Episode 2376)
▪ Man in Snowstorm (EKA: Episode 0750)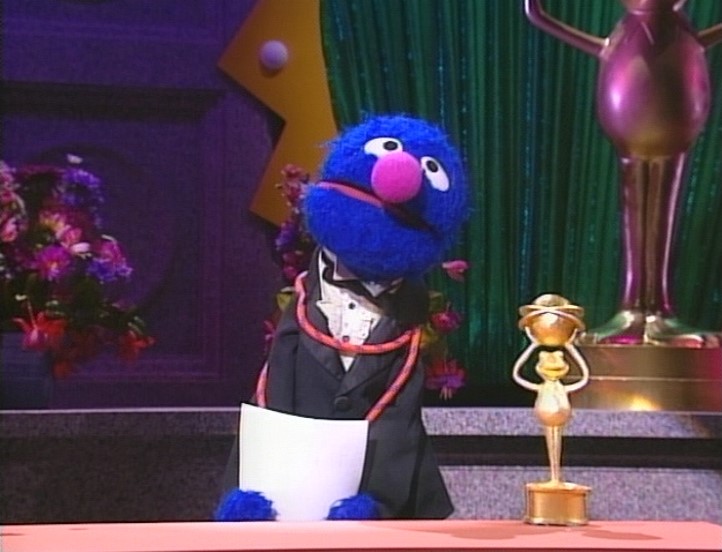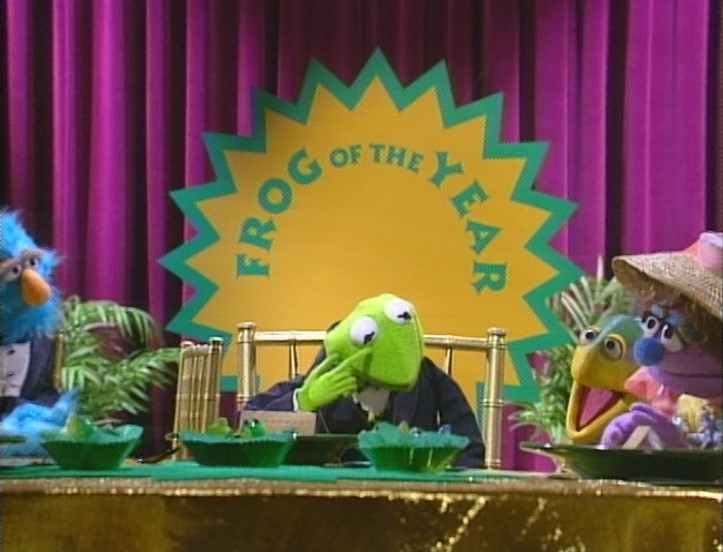 FRAME 8
Grover continues his poem and says that Kermit is not a monster. He is a friendly animal with a collar, but no shirt. Grover says more about Kermit's appearance and concludes that he is proud the way Kermit is.
Muppets
Kermit sings "This Frog."
(EKA: Episode 1075)
First few seconds cut and new music added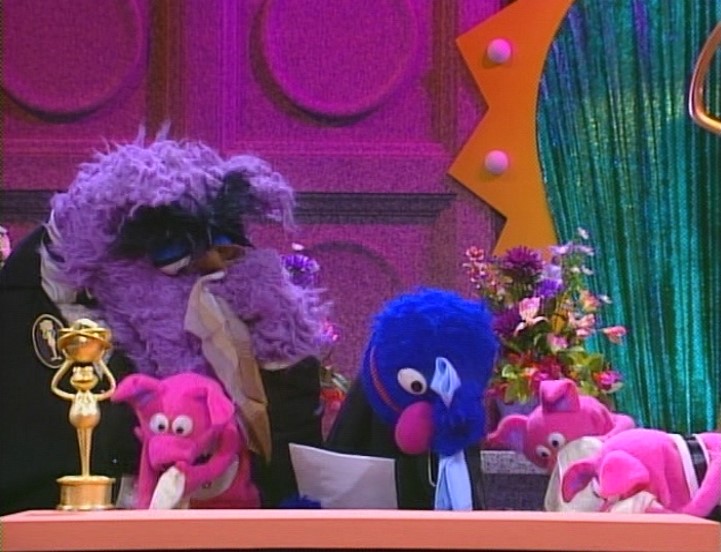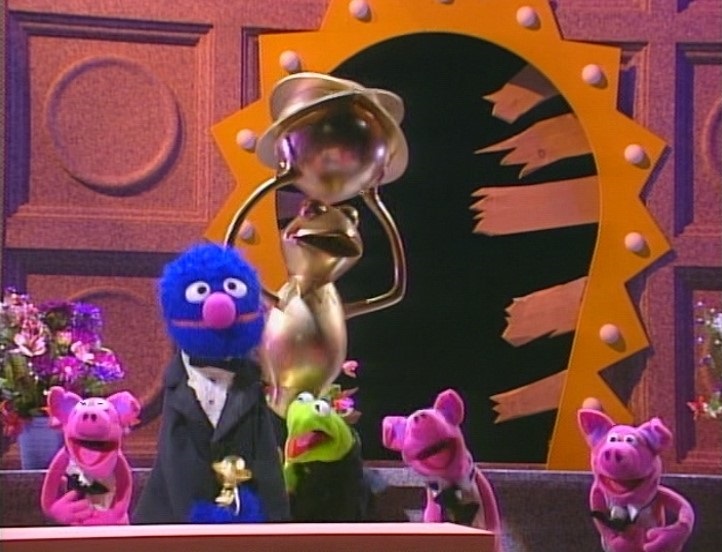 FRAME 9
Everyone gets teary-eyed as the award is presented. Kermit comes up to get his award. He is about to take the small golden statue and make an acceptance speech, but Grover tells Kermit that he can't give it to Kermit, because that's not his prize. When Kermit asks where the real prize is, the pigs give him a very big statue of Kermit. As Kermit struggles to carry it around, Grover sings "Frog of the Year", and tells the audience that "Froggy wanted to thank his mommy and daddy, and Sesame Street News, the frogs in the glen, the little people behind the scenes, the big people behind the scenes, and someone called Jim". MacBook Pro: bell, TV: whistle to the camera. Starting in 2017-present, Fireman Duck gives you The Ten Second Tidy just like Molly and Loonette used to do.
Ad blocker interference detected!
Wikia is a free-to-use site that makes money from advertising. We have a modified experience for viewers using ad blockers

Wikia is not accessible if you've made further modifications. Remove the custom ad blocker rule(s) and the page will load as expected.